Students Get an Exclusive Look at the Award Winning Rocksalt Kitchens
Level 3 Catering students at Folkestone College started the year as they mean to go on, with a trip out to local employer and popular food destination, Rocksalt.
Students met with Executive Head Chef for the Rocksalt Group, Marcin Szelag, who spoke about his journey into the industry and what it's like to work for the Rocksalt group, before hearing from Rocksalt employee and EKC Folkestone College alumnus, Daniel Eiste, who has built up an impressive CV since leaving the college six years ago.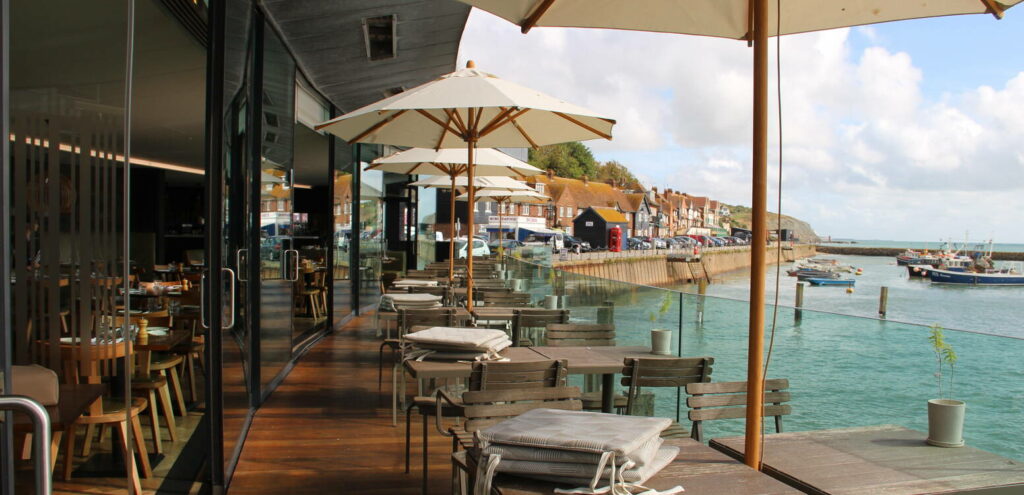 Marcin was inspired to begin cooking after seeing Gordon Ramsay on TV. His passion, energy and the high-stakes kitchen environment excited Marcin who decided he would one day work for the celebrity chef. Therefore, he started on his culinary journey, training in Poland before moving to England and securing work experience at the restaurant chain, Frankie and Benny's. Marcin kept following his ambitions, gradually working his way up through positions and different kitchens, including Claridge's, eventually fulfilling his wish and gaining employment for Gordon Ramsay's London restaurant. When recounting his experiences to the students he explained: "Working for Gordon Ramsay was very hard. It was a tough experience, but also the best time. I learnt so much".
Marcin eventually left the busy lifestyle of London, moving to Kent twelve years ago, to spend more time with his family and young children. It was then that he became part of the team who created the Rocksalt Group.
Rocksalt belongs to a family of restaurants and pubs across South East Kent, each with a different aesthetic, menu and clientele. The award-winning restaurant, which sits on the impressive Folkestone harbourfront boasts impressive views and a decadent menu of local, seasonal ingredients.
As Head Chef, Marcin is passionate about training the next generation, regularly offering work placements and entry-level jobs to young chefs. He commented: "Studying at college will give you a great foundation of knowledge and skill. But you'll continue to learn, even when you get into the workplace. In a working kitchen like ours you'll be given a £300 turbot to prepare, and you'll get to experience a busy kitchen with a full room of 'covers' [tables]. Getting industry experience alongside your college course is important, as that's how you'll get the most comprehensive training."
During the trip, Marcin showed students around the kitchen, explaining the responsibilities of each station, and introducing the current staff. Students were fortunate to see the kitchen in action, with many of the chefs already cooking and preparing for the day ahead. The Head Chef explained the types of tasks they may be given as he offered the students the opportunity to complete trial work placements.
He said: "All experience is good experience. No matter what you do, what kitchen you're in, or what you're cooking, you are always learning something valuable. So, regardless of where you enjoy cooking most, I'd advise students to experience a variety of kitchens. Even if you're already working, come along to Rocksalt and try a different environment, see how you get on".
Students were then introduced to Daniel, who was in their shoes only six years ago. Having completed his Catering course at Folkestone College, Daniel secured employment after visiting Rocksalt on a College trip. Thinking back to the beginning of his career, he said: "I always want a challenge. That's my personality. So as soon as I stepped into the kitchen on the first day, I saw college was just a learning curve and the real experience comes once you're in a working kitchen."
Daniel began on the pastry section, perfecting his skills before being challenged on other sections. He told the students: "I was always chasing the fire. Marcin would ask if I wanted to do pastry, but I'd say no, chuck me on meat and fish and see what happens. That's the hardest station, so I'd either sink or swim."
Daniel has worked hard over the years, proving himself and his culinary talents as he found the confidence to start creating his own dishes, trying new, creative ideas and taking on the title of Senior Sous Chef.
But last year, Daniel, who is always keen to develop and learn, decided it was time to venture onto new challenges as he travelled to the Swiss Alps to work at a Michelin star restaurant in the Matterhorn mountains. He will also be travelling back to the region in the coming months, to take on the role of Chef de Partie at a new restaurant. Along with the owners, and Executive Chef, they have ambitions of gaining a two Michelin star status.
Daniel told the students how much he'd enjoyed his time at Rocksalt, and how much he'd learnt under the guidance of Marcin, but he also knew it was time to move on. He said: "Starting here, it was such a high calibre. When I moved on, I didn't want it to be a step backwards. So realistically, my options were to relocate, to either central London or elsewhere. I already had connections in Switzerland and knew a chef working out there so when I was offered work it made sense to take it."
When asked what advice he would give students who are contemplating a future in the catering and hospitality industry he said: "I'd tell students to always embrace the challenge.
In this industry, the most important thing is to have patience and passion. Kitchens can be fun, even in the most stressful of times, especially when the whole team rallies round and supports one another. It's a hard job and a tough industry, but if you enjoy what you do then you will be fine."
Marcin finished the tour by showing the group the upstairs bar, terrace space and his most recent project; a new Wood Fired Brasero BBQ in which they cook seafood at the weekend.
Marcin hopes he has inspired this group of students, who may end up just as successful as Daniel, as he concluded: "I taught Daniel for six years, but the tables have turned. With his creativity, and new experiences I'm now learning from him daily and I love it. It's great to watch him succeed, and I'm proud to be able to see him grow. I hope Rocksalt can continue to help young chefs realise their passion for years to come".